Overview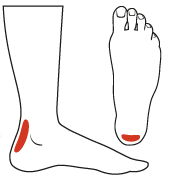 Achilles tendon rupture are common. Most athletes describe a sudden acute event with an associated popping sensation and pain in the Achilles tendon. They often think that they have been kicked or struck in the calf. It is important to get prompt treatment and to be placed in an equinous cast (a cast with the foot in a pointed position). More definitive treatment options can be discussed after this has occurred.



Causes

The Achilles tendon can grow weak and thin with age and lack of use. Then it becomes prone to injury or rupture. Achilles tendon rupture is more common in those with preexisting tendinitis of the Achilles tendon. Certain illnesses (such as arthritis and diabetes) and medications (such as corticosteroids and some antibiotics, including quinolones such as levofloxacin [Levaquin] and ciprofloxacin [Cipro]) can also increase the risk of rupture. Rupture most commonly occurs in the middle-aged male athlete (the weekend warrior who is engaging in a pickup game of basketball, for example). Injury often occurs during recreational sports that require bursts of jumping, pivoting, and running. Most often these are tennis, racquetball, basketball, and badminton. The injury can happen in the following situations. You make a forceful push-off with your foot while your knee is straightened by the powerful thigh muscles. One example might be starting a foot race or jumping. You suddenly trip or stumble, and your foot is thrust in front to break a fall, forcefully overstretching the tendon. You fall from a significant height or abruptly step into a hole or off of a curb.



Symptoms

Patients who suffer an acute rupture of the Achilles tendon often report hearing a "pop" or "snap." Patients usually have severe pain the back of the lower leg near the heel. This may or may not be accompanied by swelling. Additionally, because the function of the Achilles tendon is to enable plantarflexion (bending the foot downward), patients often have difficulty walking or standing up on their toes.



Diagnosis

A doctor will look at the type of physical activity you have been doing. He or she will then look at your foot, ankle and leg. An MRI may also be used. This is to help determine the severity of the tear and the extent of separation of the fibers.



Non Surgical Treatment

If you suspect a total rupture of the achilles tendon then apply cold therapy and compression and seek medical attention as soon as possible. In most cases surgery is required and the sooner this takes place the higher the chances of success. If the injury is left longer than two days then the chances of a successful outcome decrease. Cold and compression can also be applied throughout the rehabilitation phase as swelling is likely to be an issue with such a serious injury.






Surgical Treatment

The best treatment for a ruptured Achilles tendon in an active individual is typically surgery. While an Achilles rupture can sometimes be treated with a cast, splint, brace, or other device that will keep your lower leg from moving, surgery provides less chance that the tendon will rupture again and offers more strength and a shorter recovery period. Surgery may be delayed for a period of a week after the rupture, to let the swelling go down. There are two types of surgery to repair a ruptured Achilles tendon and both involve the surgeon sewing the tendon back together through the incision. Open surgery, the surgeon makes a single large incision in the back of the leg. Percutaneous surgery, the surgeon makes a number of small incisions rather than one large incision. Depending on the condition of the torn tissue, the repair may be reinforced with other tendons.